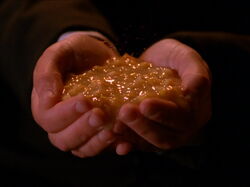 Garmonbozia is a concept from the film Twin Peaks: Fire Walk With Me, David Lynch's prequel to the Twin Peaks. Physically, garmonbozia takes the shape of creamed corn.
Creamed corn is referenced in the series when Laura Palmer's best friend Donna takes over Laura's "meals on wheels" route and accidentally serves the Tremonds (the little boy with the white mask and the old lady) creamed corn. Also, in the film Mike accuses Leland of stealing the corn he had canned "above the store."
Secondly, garmonbozia refers to "pain and suffering." Bob, and possibly Mike or other inhabitants of the Lodge, feed off of garmonbozia as it is mentioned by name and/or description throughout the series and movie by Mike, Bob, the Tremonds, and The Man from Another Place.
It can also be used to describe any surrealistic deus ex machina inserted in film or television.
External links
Edit