Early Life
Edit
Rossellini was born in Rome She is the daughter of Swedish actress Ingrid Bergman and Italian director Roberto Rossellini. Rossellini was raised in Rome, as well as in Santa Marinella and Paris.
Modeling
Edit
At the age of 28, her modeling career began, when she was photographed by Bruce Weber for British Vogue and by Bill King for American Vogue. Rossellini's modeling career led her into the world of cosmetics, when she became the exclusive spokesmodel for the international cosmetics brand Lancôme in 1982. In October 1992, Rossellini modeled for Madonna's controversial book Sex. Rossellini also appeared in Madonna's music video for her successful Top 5 hit song "Erotica", released in the autumn/fall of 1992. In 1995, Rossellini worked to develop her own brand of cosmetics, "Isabella Rossellini's Manifesto."
Rossellini made her film debut with a brief appearance as a nun opposite her mother in the 1976 film A Matter of Time. Her first role was the 1979 film Il Prato, and then in 1980 she appeared in  Il pap'occhio with Martin Scorsese (her husband from 1979-1982). In 1982 Rossellini was cast in her first American film, White Nights (1985). This was followed by her role in Blue Velvet(1986). She also appeared in David Lynch's Wild at Heart (1990)
Rossellini and Lynch met when they were introduced at a restaurant during a break in the casting process of Blue Velvet. When he first spotted Isabella, Lynch told her: "Hey, you know, you could be the daughter of Ingrid Bergman," which in fact she is. She was cast as Dorothy Vallens, a tortured night club singer. The pair soon began a romantic relationship that lasted four years.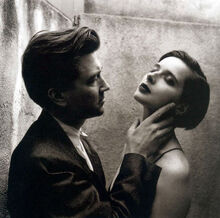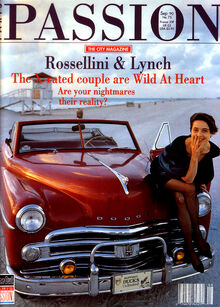 Rossellini and Lynch
Edit
Lynch and Rossellini were a couple from 1987 to 1991. They began dating around the time Lynch divorced his second wife, Mary Fisk, and Rossellini divorced her second husband, Jonathan Wiedemann.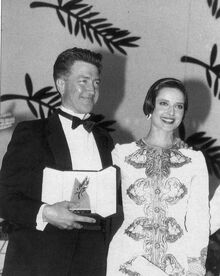 The couple's relationship was mostly long distance due to their quite busy schedules. Lynch was preparing for Twin Peaks and Rossellini was raising her child and modeling.
Rossellini has a small role in Wild at Heart as Perdita Durango. Her look was inspired by Frida Kahlo and Lynch added the blonde wig. She has said  "I´m here solely to support David. And I did the film because I adore that world of excess, of surrealism" about her small role in the film.
The couple reportedly broke up and one of the reasons given was that Lynch could not stand the smell of cooking in the house because it would infect his drawings and writing papers. Lynch was the one to end the relationship shortly after his win at the 1990 Cannes festival. Rossellini told the publication Die Zeit, "David was the big love of my life. And I believed that he loved me the same way, but obviously I was mistaken. All my instincts told me we were a happy couple, but we weren't."