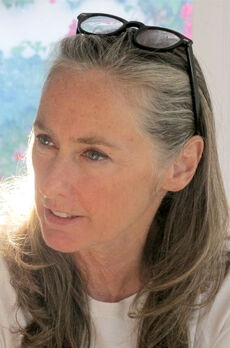 Mary Sweeney (January 1, 1953) is an American producer, editor, screenwriter, and director.  She is known for twenty years of artistic work done in collaboration with American filmmaker and artist David Lynch.
She obtained a Master's Degree in Cinema Studies from NYU and worked on smaller features in New York and San Fransisco. Sweeney's working relationship with Lynch began in 1985, where she acted as an assistant editor on Blue Velvet.  Following that film, she would act as an editor, producer, and writer on many of his other films up until 2006. Her editing work on Mulholland Drive won her a British Academy Award for Best Editing, and her screenplay for the Straight Story was nominated for an Independent Spirit Award.
In her directorial debut, Sweeney directed and produced Baraboo in 2009, based on her original screenplay.
In 1992, she gave birth to Lynch's son, Riley Sweeney Lynch.  In 2006, she and Lynch also married, but divorced within a year.  Sweeney is currently a professor at the University of California, where she teaches Graduate Screenwriting Thesis and "Dreams, the Brain, and Storytelling." She is also the USC Dino and Martha De Laurentiis Endowed Professor as of 2012, and the Chair of the Board of Trustees of Film Independent. Sweeney continues to stay active in the independent film making community in Los Angeles.  
Her works with David Lynch include:
Blue Velvet (assistant editor)
Wild at Heart (assistant editor)
Twin Peaks: Fire Walk With Me (editor)
Hotel Room (editor)
Lost Highway (producer, editor)
The Straight Story (producer, writer, editor)
Mulholland Drive (producer, editor)
Inland Empire (producer)
Community content is available under
CC-BY-SA
unless otherwise noted.