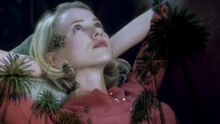 Naomi Watts
Edit
Naomi Watts (born 28 September 1968) Is an English actress. She met Lynch in 1999 as she was auditioning for the lead role in Mulholland Drive, which she would eventually receive. She has worked with him on a few more projects since then while also gaining commercial and critical attention.
Meeting Lynch and Mulholland Drive
Edit
Watts had been a steady supporting actress since the early 1990's but her breakout role was in the 2001 film Mulholland Drive. Lynch reportedly looked at a headshot of Watts and decided to interview her. With having seen any of her previous work he offered her the lead role in the film (which was supposed to be a tv pilot at the time of casting). When asked about choosing Watts Lynch said "I saw someone that I felt had a tremendous talent, and I saw someone who had a beautiful soul, an intelligence--possibilities for a lot of different roles, so it was a beautiful full package."[1] Most of the shooting took place in early 1999 but the pilot was rejected so Lynch shot an ending in October 2000 and converted the project into a feature film. The film released in 2001 and garnered much acclaim, especially for Watts' Performance. This served as a breakout moment for her and she has maintained a relationship with Lynch ever since.
Watts starred as an anthropomorphic rabbit named Susie in Lynch's web series entitled Rabbits. It initially aired as 8 episodes on Lynch's Website and some of the footage was later used in the film Inland Empire.
Twin Peaks
Edit
Watts is set to appear in an unknown role in the 2017 Showtime reboot of Lynch's show Twin Peaks.
Cite error: <ref> tags exist, but no <references/> tag was found