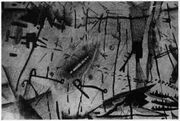 Ronnie Rocket is an as-yet-unproduced film by David Lynch.
After finishing Eraserhead, David Lynch spent two years writing a script for a new project entitled, Ronnie Rocket, which was "about a three-foot tall guy with red hair and physical problems, and about 60-cycle alternating current electricity."[1] Ronnie Rocket was a strange mixture of the abstractness of Eraserhead and Lynch's love of America in the fifties. He has described it as "an American smokestack industrial thing -- it has to do with coal and oil and electricity."[2]
Initially, Lynch and producer Stuart Cornfeld had hoped to get it made with Dean Stockwell, Brad Dourif, Jack Nance, Dennis Hopper and Harry Dean Stanton originally starring in it back in 1987 with it being set in Hoboken, New Jersey. Later on Isabella Rossellini was intended to star in the film.
Various drafts of the script have languished at both Dino De Laurentiis and Francis Ford Coppola's Zoetrope Studios. Lynch had a multi-picture deal with De Laurentiis that began with Dune. After Blue Velvet, Lynch planned to make Ronnie Rocket but then De Laurentiis' company went bankrupt in 1988 and this project ended up in legal limbo.
Lynch has stated that he is still very much interested in making the film, but anticipates that it will not be a commercial picture, but more personal like Eraserhead. He has already considered Michael J. Anderson who was the Man from Another Place in the Twin Peaks TV show and feature film, as the man to play Ronnie Rocket.
Lynch would like to approach the film much in the same fashion as Eraserhead. "I want to have time to go into that world and live in it for a while, and that costs money. I don't really want to have a normal eleven-week shooting schedule on Ronnie Rocket. I'd rather go with a smaller crew, and build the sets and live in them for a while."[3]
References
Edit
↑

Breskin, David. Inner Views: Filmmakers in Conversation. USA: Faber and Faber, 1992. p. 77.

↑

Breskin, David. Inner Views: Filmmakers in Conversation. USA: Faber and Faber, 1992. p. 77.
External links
Edit